Manhat-ten – Large Play & Viewing Platform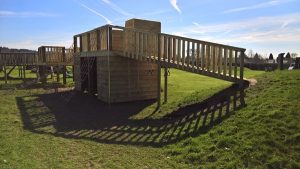 It started off as an old assault course at a Nursery. But by the end, became a large play tower raised above the ground. The finger of blame was pointing squarely at the kids, though we didn't see the parents complaining.
The platform is high above the ground and when you're up at that level, and one of the young uns', you can really appreciate nature and the surrounding landscape.
With an easy walkway leading up to the top height of the platform, there is always means to escape should enemies launch an attack. But also allows it to be accessible for even the smallest of play enthusiasts. And what a great selection of activities to choose from!
The tower is more for the adventurous kids – it only goes half-way across, bridging the gap between new and old. Are you up to the horizontal climb using the monkey bars? Only the brave need apply.
The Ideal Viewing Platform
Situated specifically between the old adventure play equipment, this is one of the larger commercial builds we've created and offers a number of really wonderful experiences, both below and on top of the towers. We position the play equipment carefully, so the children could use it heartily without fear of collision or injury.
But the crowning glory is the large fortress tower. It stands proud in the field and invites all with its wide range of equipment. However around the back there is a secret entrance to the den that is hidden below the platform. A sure-fire headquarters to all active youngsters.
It really is the perfect space to while away time, whether with a book, friends or even conquering the whole course.