The Ultimate Behemoth – Triple Platform Tree House
What does one do with a new house, an expansive garden and a young family? Well if you really want to max out the fun, you create a triple platform tree house. It's an amazing play space for the entire family, for years to come.
Triple Platform Tree House – Multiply the Fun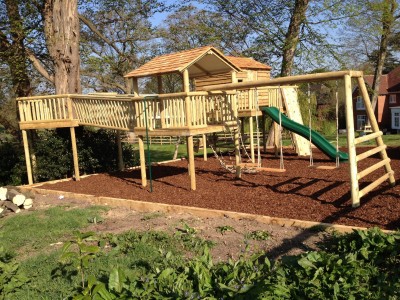 The scope of this project started big and got bigger. It had to make the most of the space and it needed to incorporate trees, walk-ways, slides, an enormous cargo net as well as the kind of detail that makes a project like this unique.
Every bit of this build was handmade, on site from the highest quality outdoor construction timber. The three platforms are all different as well. Firstly, we have the play house tower, perfect for sleepovers and secret meetings. But don't fooled, accessing this cosy zone could be a challenge with the vertical climbing wall.
The second platform runs rings around the tree, giving the perfect space to give pursuers the slip. We carefully cut hole within the platform to allow the trees to sit in the middle. With extra battening around the edges, there is no way this tree could be harmed by our build.
With a stunning shingle roof, we come to the final tower. It connects you to all things fun: cargo net, monkey bars, swings and fireman's pole. There's so much for your child to pick and choose from.
Letting the Kids Enjoy the Great Outdoors
The groundwork was also extensive in scope, with thick sleepers providing the edging and containing many tons of play bark, it offers the perfect palette for play.
What was an overgrown, untidy and unloved garden has been transformed into a space of energy, exercise, imagination, bonding and enthusiasm. Job done!