Tree Top Bolt Hole – Wooden Tree Platform Renovation & Extension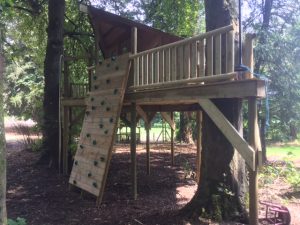 Sometimes you just want some space to hideaway from the rest of the world. To take the opportunity to breathe in fresh air, and get away from it all. So why not have wooden tree platform hidden away in the canopy?
The brief from the client was rustic, hidden and simple. Though the garden is extensive, we tucked the platform within the trees making it the 'bolt hole' they were looking for.
Our clients wanted it to be a place to explore and bring new life to the previously disused platform, which did bring a range of challenges.
Welcome to the Jungle
The location chosen meant that we needed to carefully place the platform between a large number of trees. Amid head-scratching, measuring and re-measuring we formed a plan. We even took it further, adding play components that even the older kids would love.
To access the platform it's either up the custom made rope ladder, which sways underneath you as your climb. Or if you want more challenge, the climbing wall will always test your hand-eye coordination to the max. A fireman's pole creates a swift exit from the platform, but the kids won't be departing that quick when they see the tree house. Perfect for outdoor sleepovers, weather tight and glazed exterior provides shelter against the worst of the elements. Whilst blending in seamlessly into it surroundings.
The Hideaway Zip Wire
When we came to give our client a site visit, we realised just what scope of woodland they had. And although the thought had never crossed their mind, we knew that the kids would enjoy a zip wire too.
We selected two of the sturdiest trees, with a take off from the platform edge. The zip wire uses the increased height of the platform to its advantage for a thrilling ride. A 32 meter length across the woodland area, created the perfect combination between play and nature, as the kids could glide through the trees as they find their way back to the ground. And only ever using commercial graded trolleys and cables, this zip wire is game for the whole family.