Double Play Tower with Den, Ramp, Slide, Net, Climbing Wall & Bespoke Bridge in Rounds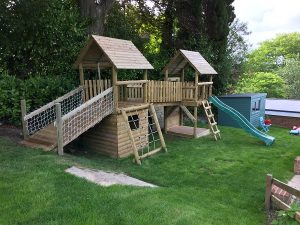 If you want the highest grade of double play tower, then this good looking kit has the versatility and fun in spades. It looks fantastic in any garden urban or rural garden. It's a twin tower, made of premium quality round timber, helping provide the ultimate tower experience.
Tower one has a shallow access ramp with cargo net on the front. A clad lower tower is perfect for little ones to hide away. Giving them a cosy space for all impromptu tea parties and sleep outs. The incline of the ramp can make it difficult to gain access to the tower but with an addition of netted handrails, we made it as easy as possible. So even the youngest of play enthusiasts can get involved! A bespoke timber bridge links to the second tower which hides more adventures.
Add a Play Tower, Double the Fun
Tower two has a slide and access ladder at the front. And for the adventurous, there is a climbing wall to the rear of the tower. The positioning of the towers means that they are carefully tucked away under the trees, leaving plenty of room for mum and dad to enjoy the rest of the garden.
At the clients' request we returned and added a premium sand pit for creative play for their young family – bespoke, fitting the space available with a folding roof to hide when not in use.
Made from the highest quality timber, this double play tower has a 10 year guarantee. Although is likely to last longer that that. But the fun will last for generations, we're sure.