What's next for the Garden?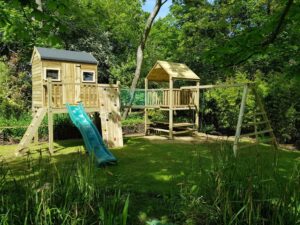 Spring is nearly upon us.  The fun of the snow and ice has abated and left us with a slightly soggy outside space.  Now is not only the time to start weeding and servicing the lawnmower but also the time to start looking at ways to ensure gardens are versatile and useable for the whole family.
Before we built our children a treehouse and play area the garden was a place ready for adult socialising with the table and chairs in place. However the children's toys were kept in a dark area of the cold shed (possibly all broken).  Now is the time to start looking at ways you too can give your children an area to use not only in the summer but all year round.
How to improve the garden for the children? 
One of the best ways to do this is a treehouse or purpose built play area – not all of us are blessed with that perfect tree for the dream treehouse.  Gardenatics works with families and the space available to create an area which children will use forever (lets remember even as adults we like to relive our youth from time to time – I mean, who doesn't like sitting on a swing or going down a zip wire?)
What to include in your treehouse or play area?
The answer to this question depends upon your family, every single one is different.  Some children are climbers, while others will go down a slide endlessly and lets not forget those who will play in a fort or princess tower all day long.  Having a mix of options is always a good idea but remembering to build to the requirements of your families individual needs is paramount.  The options are endless, here are some ideas…
Treehouses
If you have the tree look to use the branches in different ways. In this design the branch holds the rope to connect the two platforms.
Bridges, swings, cargo net, monkey bars and slide as well as forts – who could ask for more?
Towers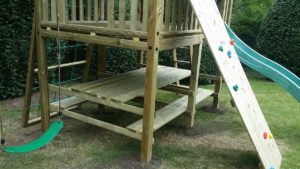 Mix it up, climbing walls don't have to be square and slides can be open spirals.  Zip wires can be attached and Picnic Areas can be incorporated too
Connecting your build
There are lots of different bridges to choose from, we can help you select the best one for you.
For more inspiration visit our website or contact us to start your bespoke build.