Fitness high bars and climbing frame full of fun for the whole family.
Fitness high bars for the adults and a climbing frame suitable for the budding gymnasts was our clients brief. Tasked again with a great opportunity to build a fitness gym in a challenging space with the fun element of the climbing frame and carefully chosen accessories for the kids.
Not all families want simply a slide and a swing. It's all about knowing the family and ensuring the equipment chosen is used for years.
Using various climbing areas alongside parallel bars allows the children and a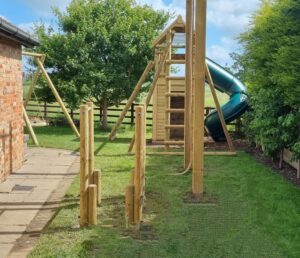 dults to develop their gymnast skills alongside building their core strength and overall keeping fit.
Areas such as these need to be challenging for both the adults and younger budding gymnast and not forgetting fun! With this in mind we designed and installed three defined areas. The climbing frame and den has a large cargo net and climbing wall with monkey bars attached. A large comfortable nest swing to just relax on, and the gym area with climbing ropes of various hights, dip bars alongside  pull up bars give variation and push the challenge even further for children and big kids!.
The climbing frame gives the children their own space to chill out after a work out, the tube slide adds that fun element when leaving the den in a hurry!
Do you have the space to build high bars in the garden for the budding Gymnast?
Creating a build such as this doesn't need an enormous space.  Gardenatics works with the family and the space provided, ensuring the best area for you. Be it a 'budding Gymnast' or a 'Climber' there is a brilliant area we can build for any space.  As you can see from this build all the area is utilised – filling it with hours of fun!
Come rain or shine this will be a great outdoor gym for the whole family to practise their skills.  As well as building upon their fitness for years to come.