Double Tower with Turret Style Cladding and Extra Large Slide in Rounds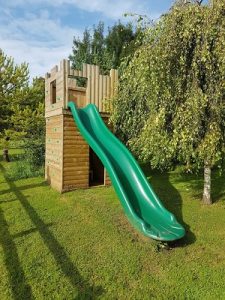 The brief for this climbing frame was short and straight to the point, 'Create my son the castle of his dreams.' However it also needed sit discreetly at the bottom of the garden. But with such a great space, we had to make this one special. A double tower with turret style cladding might just do the trick.
After some photos and a few measurements we knew what space we had to work with. The added addition of a few Llamas in the next field over, created a beautiful view to capture with our castle themed double tower.
A Double Tower with a Turret
One tower can provide a good amount of fun, but why not have the added thrill of two towers? Especially for younger, more energetic, children. Who have a ball of energy locked inside them. By giving them more testing activities like cargo nets and climbing walls, you can also give Mum a little peace and quiet. But maybe not when Dad decides he wants to have a go too. Living his boyhood firefighter dream, as he slides clumsily down the fireman's pole. Off to 'the next emergency'.
There's the inclined timber bridge to access the main show-stopper tower. Below the platform is a den for hatching out plans on how to conquer the castle fort, a headquarters to share with fellow comrades. No adults, not ever!
As you reach the summit of the 2.1m tower, the turret style cladding brings practicality and imagination into one to achieve this wondrous look. The space opens up a new world of adventure as you can scan the horizon for enemies, friends or wildlife. Tally ho, engage the enemy, descend down to engage in hand-to-hand combat, defend the Keep at all costs. The super high wavy slide creates a fast and fun way of exiting the tower. A sure-fire element that all children will love!