Fun House with Slide, Cargo Net, Climbing Wall and Swing Extension in Squares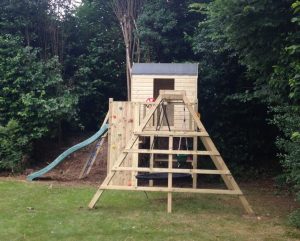 What could be better than this? A fully enclosed fun house with slide above the ground. Perfect to make your very own look out tower. A swing frame, cargo net, climbing wall and slide with picnic table below, create a fantastic combination of inside and outside play.
This high quality climbing frame has a wide variety of things to do and play with, for your children irrespective of their ages. So, for the fun house, its a fully enclosed and weather tight structure several feet off the ground, complete with glazed window and felted roof.
The door is open for easy movement between the fun house itself and the enclosing balcony platform. There's a range of access options. Let's see: you could take the wavy slide down, or if you are looking for more of a challenge, how about accessing the fun house via the full-size cargo net? Not enough of a challenge? Then maybe the climbing wall's where its at? There's always the traditional stairs or if you're a bit more unconventional, how about swinging across the monkey bars? Lots of ways, and lots of fun.
A Raised Fun House with Slide is Perfect for Creative Play
Imagine the parties, teas and sleepovers to be had either in the fun house itself or on the balcony. If it's a picnic they're after, then look no further than below the platform, where a fully prepared table plus benches awaits.
But the frolics don't end there, as there is a well stocked swing set along the monkey bars. A communal nest swing for those all important bonding play moments or the more conventional baby seat swing for the younger child.
This set up represents many years of playing pleasure, aided by a 10 year guarantee. All our high-quality square cut timbers are treated against rot and failure.