Tower with Monkey Bars, Den and Stainless Steel Slide in Rounds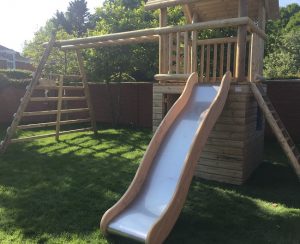 Looking for some serious versatility on where you site your adventure station – then this configuration could be the one for you. A play tower monkey bar ultimate combo!
By extending the monkey bars from the tower, you'll be able to move things around to suit perfectly your garden layout. All the while maximising the amount of fun the kids can possibly have.
This wonderful combination balances bonding and imaginative play with equipment to suit the adventurous. Want to while away the hours with a close buddy? The monkey bars are perfect for those long days of summer. Where the laughs keep coming and you feel that you could never have a better friend to share jokes and secrets together.
Swing for Joy with Play Tower Monkey Bars
The enclosed den below the tower platform allows you to play make believe. And gives your child a safe refuge to play 'house'. But if they're feeling more laid back, then testing the stainless steel slide makes for an easy descent. If they are feeling bolder, then why not access the tower via the monkey bars? Crossing the 'crocodile infested waters' is sure to bring out their inner explorer. Whilst it will also build confidence, coordination and upper body strength.
Once they are on the platform, they really are king and queen of all that they survey. Especially with the view that this elevation gives them. They'll be able to spy on everything that's going on around them or take in the local wildlife.
This high quality equipment made from chunky, round, high-quality timber is treated and waxed to be a long-lasting asset in any garden and it will provide, fun and great days for years and years to come. For peace of mind, we offer a no quibble 10 year guarantee.