No Come Down – Wooden Tree House with Open Play Tower
Beautiful tree house built around, of all things, a tree!
What grandchild wouldn't give all their pocket money to play on this fully loaded frame? This wonderful wooden tree house, with multi-platform adventure structure, was developed for future generations.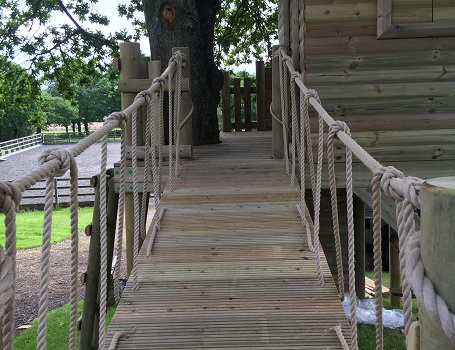 With a beautiful elevated series of platforms linked by a bridge and a swing set combination, it's a guarantee for laughs and fun all summer long.
This project is big enough to keep a whole tribe of kids entertained. The start of this build was the magnificent oak tree, which dominates this part of the garden. The customer has grandchildren who live in countries across the world, and wanted a focal point for family visits. So something exciting was in order to keep all of them, big and small, entertained.
The initial idea was to have a tree house platform, where the kids could think they were part of the tree's branches. However once we started planning, our client got increasingly enthusiastic about making this a complete kids adventure. Two platforms joined by a wibbly-wobbly bridge, cargo net and swing set, a long wavy slide and challenging climbing wall.
The magnificent tree house sits proudly on the largest platform under the shade of the branches of the mature tree. With door and two windows with shutters, this beautiful house has a roof of cedar shingle and is fully protected from the elements for those all important bonding sessions with cousins.
From childhood to 'tweeny', then parenthood, a tree house for all ages
One of the strengths of this build is its versatility and the numerous ways there are of entering and exiting the structure. That and lots of different ways of playing with one's cousins marks this build out as something special.
Lazy days of bonding on the nest swing – check. Playing house or having a den to share secrets with your cousins – check. The focus of challenging aerobic exercise – check. Builds hand-eye coordination and upper body strength (climbing wall, cargo net) – check. Developing imaginative play whilst defending the castle from one set of cousins – check.
So with a variety of different play environments, spaces and ways of utilising this play equipment, it offers everything. This lucky customer has something which will take his grandkids all the way through their childhood and well on the way to their teenage years.