The Facts
Did you know that a recent report from Public Health England and the NHS revealed some shocking statistics about outdoor play in children?
The number of children doing an hour of physical activity a day has fallen by nearly 40% between the ages of 5 and 12. In fact, only 23% of boys and 20% of girls between 5 and 15 meet the nationally recommended level of activity. These are alarming figures but don't be too despondent! There are plenty of things we can do to encourage our children to get active.
What do our children think about Outdoor Play?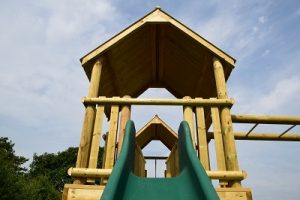 We know that children love to move, play and having fun. Sport should never be boring, a simple bike ride or a trip to the park all count. Equally, most children want to be fit and healthy, even if they appear to be addicted to their screens! Even very young children aged around 5 say that regular exercise makes them feel confident, happy and more sociable. However, as children mature, the reasons for not wanting regular exercise change. Feeling unconfident and self-conscious, for example, are common reasons for preteens to avoid regular outside activity. Needless to say, many kids want to have the chance to be more active, especially in their gardens.
What can be done to help?
Change4life, the government sponsored organisation, is launching a campaign known as 10 Minute Shake Ups. In partnership with Sport England and Disney, they want to encourage children to take part in easy and accessible activities. This summer, why not visit their website to see how the fun activities work, and get your kids to join in? After all, doing activities that children find fun and enjoyable means that they are more likely to continue.
What can you do to help?
Have you noticed that your child isn't being as active as they could be? If so, why not explore some ideas to get them out in the fresh air? We think outdoor play is one of the best ways to encourage children to be more active. Moreover, it's a chance to make memories and have family fun.
What can we at Gardenatics do to help?
– We think climbing frames, tree houses or even zip wires are a great way to keep children more active. Using them helps kids to become fit and healthy without even realising it.
– They strengthen the bonding between family and friends through shared time and play. Similarly, outdoor play in a tree house or climbing frame is non-competitive. This means that everyone can access it at their own level. Everyone is as good as each other because there is no pressure to perform well. This is essential for boosting self-esteem and self-confidence.
– No need to factor in time for travel. Outside play equipment is always accessible because they are kept in your own garden
– They can be designed to meet the specific needs and wants of your children
– Climbing frames and other outside play equipment create an endless amount of fun. At the same time, they allow children to develop their skills through physical activities and imaginative play.