The cold hard truth of it is that our kids are getting further and further away from the natural world everyday. For many of us, technology has become part and parcel of our everyday lives. The next generation is very reliant on technology devices. So much so that they've stopped looking around and appreciating the outdoor experience and the microscopic world on their very doorstep. Obviously, parents are starting to feel a little anxious about the change of lifestyle and wondering what they can do. A recent article published by The Times titled "David Attenborough: Children Reject Nature" has heightened parents awareness that it's not just about how active their kids are. They require a better understanding of the natural world and where things come from. Which is why, here at Gardentics, we thought we'd give you a few ideas.
MagPosts
Sounds quite fancy and complicated, but this is simply a large wooden post with a magnifying glass on the top. Position it over a small table. Then encourage your kids to go and find some bugs they can get up close and personal with. It doesn't have to be bugs if you're a little squeamish. Flowers and leaves work equally well. The great feature of this is that you can install it in pretty much any type of garden.
Climbing Trees
Many of you enjoyed this pastime when you were kids. It's a great way for children to enjoy being outside. It also develops their balance skills and key strength. It's not as dangerous as you think either. If you're worried about accidents and injuries, there's the option of building a tree house or climbing frame. Where you can add many elements like climbing walls, cargo nets and rope ladders to help simulate the natural play children may get when climbing trees.
Walks in the Countryside
There is a wealth of National Trust areas around the UK, where families are always welcome. For example, visit the Brecon Beacons in Wales and the New Forest in Southampton. Many of these beautiful spots are free to visit. They do ask for small donation to help with the upkeep of the areas and to help keep them clean. Young kids will love walking in the fresh air, tracking down wild flowers and watching out for wildlife and cows. To finish the day off take a dip in a local river or enjoy a picnic in the countryside.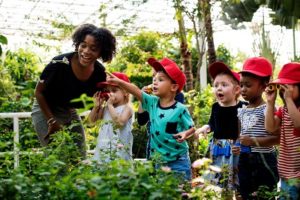 Forest Schools
This idea has been catching on all over the UK. You might find one operating in your area. They are started up by a group of passionate people eager for children to be more engaged with outdoor experiences and the natural world. There is a curriculum and lesson plans, just like an ordinary school. However, the lessons revolve around the natural world and being outside. Early Years Foundation Stage learning areas approved and outlined by Ofsted are met by some of these schools. Time can be booked at these centres during school holidays and there are even a number of nurseries. Your kids can attend and learn all about nature, the different types of plants and how to look after them.
This is just a small selection of the ways you can help your kids get back in touch with nature. The simplest ideas, such as forest walks and tree climbing, are sometimes the best. For more regular and structured activities there is the option of a Forest School. They will learn how to preserve and look after the natural world, make friends and have a good time. There are so many different ways to enjoy the countryside and experience outdoor activities. So many in fact, that there is something for everyone. The ideas don't take a lot of effort, or money in many cases, and we all need to encourage the next generation to love being outside. Just like we did when we were young.