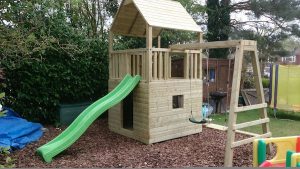 Not all climbing frames are the same and, generally speaking, the cheaper they are, the quicker it is to build them – there are fewer materials, less connections to be made, and some can be put up in a few hours.
Yet, as with most things, you get what you pay for and ones that go up easily often come down a little too easily too, much to the despair of the owners.
Here's a little illustration for you, a recent client challenged us to fit a small single-tower frame into the tightest of spaces and our gallery shows some of the lengths we went to to achieve this.
Completing A Quality Wooden Climbing Frame Build
You may think that building a climbing frame is merely about digging some holes and then fitting the pieces together. If only it was quite so simple!
Building a wooden climbing frame system so that it is safe and will last many years requires more skill than it appears, for example in this job we had these kinds of challenges:
The slide had to be off-centre to 'miss' a sleeper wall (ouch!)
The slide would have limited access to the playhouse
The swing frame had to be shortened to fit the space
A vertical ladder had to be used at the rear to allow room to get in
The ground was uneven requiring careful digging of the base holes to ensure everything was level
These needed real-world problem solving skills and, with our skill and experience, we provided just that.
Why we work with wood
Wood is flexible, wood can be shaped, wood can be adapted and ultimately wood offers our customers the best means of achieving the best possible result. it complements any garden perfectly and is both safe and environmentally-friendly. And if that wasn't enough, we can do wonderful things with them – just for you!
Want to find out more for yourself? Then why not ask us to come out and see you. Just call 01962 600 626, or send us an email and we will discuss all the options with you.