When we got the call, it was clearly a one-off: can we we raise up a play house for the grandchildren on a steep slope in an otherwise impeccably landscaped garden. It may be one of the smaller wooden climbing frames we've built, but that didn't hold us back – this is clearly a Gardenatics build because it is a one-off. It won't work with a standard 'kit' frame, it needed a modular climbing frame to make it work. The morning of the build we turned up early, intending to complete in a day, and came ready and prepared for action.
First Step – Prepare the Ground for the Raised Playhouse
We needed to clear the ground and decide on the placement of the tower: to make sure that the slide misses the bushes and that the windows on the tower have the best view of the garden. Once the tower is positioned, you really don't want to move it again – so the preparation and measuring is really important.
Second Step – Build the Tower
Dig deep holes for the pillars. Make sure that shorter ones are at the back and lift the floor into place. Once it is settled in place, the spirit level comes out to make sure that the platform is flat. Particularly with uneven ground, you cannot trust your eye to judge the levels and then build on time.
Third Step – Construct the Play House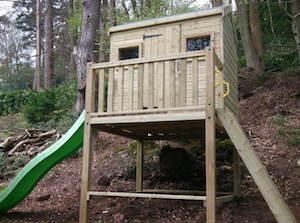 Now that the frame is in place, and stable (though we do the concreting last) we construct the upper level, cutting the cladding to size, positioning the door, slotting and fixing the roof into place and positioning the windows. Tidy up any rough edges and check stability.
And finally, Finish
Ladder and slide fixed in place. Handrails completed, and then take some photos for the blog. Job done.