Do you ever look out at your garden and think "wouldn't it be wonderful to have a tree house, tree platforms or climbing frame for the children to play on?" If you do, then you are not alone.
Unfortunately, these thoughts are often followed by negative ones that squash the idea. Perhaps the size or shape of your garden is awkward, or there are other buildings or obstructions in the way?
Don't give up so easily! Look on the bright side, here at Gardenatics we can provide just what you desire, no matter what the layout of your garden is. We are the experts in workarounds.
Why Clients Choose Gardenatics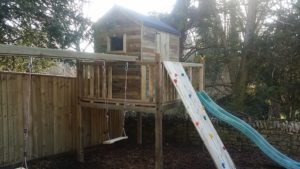 There are lots of good reasons to choose us as your supplier. Our speciality is in designing and building bespoke tree houses, tree platforms, and climbing frames.
We understand that when you install children's play equipment the safety of the children using it will be your primary concern. This is why we believe that a customised build that makes the best use of the space available, and also reduces any risk of accident or injury is by far the best option available to you.
We also want our structures to last young ones through their entire childhood, so we select materials very carefully. We understand the organic nature of wood, and use only the best, properly seasoned and pressure treated timber. Slides, cargo nets, zip wires, and swings are all robust and made to last and all our timber constructions carry a ten-year anti-rot guarantee, though they last far longer than that.
You will find that our workmanship is of the highest quality and we pay attention to detail. So when we complete the work, and the team leaves your property, you will have something safe and sturdy for your children to play on, build to fit you and your family.
Made to Measure, to Your Specification
From small installations, to much larger ones that include all the features of a miniature assault course, we aim to meet every expectation. We can build a special dens, one or more towers, perhaps with a zip wire launchpad. How about a tree house?
We create multilevel spaces and playing areas connected by walkways where you can escape via poles, slides, tubular slides and monkey bars. What is more, our installations are sturdy enough for adults to use when they want to join in with the kids or revert to their childhood self for a while.
There are Many Benefits in a Bespoke Tree House