We are all aware that it is far to easy to allow ourselves and our children to be easily distracted by screens and the warmth of the central heating, especially this time of year! Time spent in the outdoors and within natural environments can build foundations for positive physical and mental wellbeing which is something we all need to promote within ourselves and our children. Recently The Duchess of Cambridge Created a beautiful garden. 'Back to Nature Garden' at Wisley focusing on developing children's connection with the natural world and their wellbeing stating 'I believe that spending time outdoors when we are young can play a role in laying the foundations for children to become happy, healthy adults' something we all want for our children. 
Back to Natures Garden at Wisley

Alas we do not all have the access to this wonderful garden, and if we do, not on a regular basis. However, some of us are lucky enough to have a space which we can access within our own homes, which may just need a bit of work to allow our children the space to develop. The garden at Wisley had some beautiful treehouses and play areas which we can help you create in your own space no matter the size or shape. Companies such as ours use sustainable materials alongside professional designers to create your own bespoke treehouse/play area to inspire your children.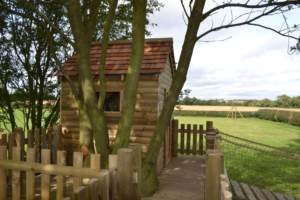 Tree House – Gardenatics
Getting the children outside can sometimes feel like a battle and having a play area dedicated to the children where parents can feel they are also safe allows them to develop all areas of their physical and mental wellbeing.
Its not just about a swing or a slide, which are all important, I know our children would be bereft without one, but is also a space that challenges children and allows them to learn through nature and play. All of our designs allow children to have fun imaginative play all year round, no matter the size of space you have available.
Although the cooler months are upon us, children still want to be outside and having such an area allows them to still access nature and play without the screen. All they need is a warm coat and hat!
To get some inspiration take a look at our website Gardenatics