SPECIAL OFFER: Order a Christmas Climbing Frame and Receive a FREE MagPost worth £210.
That's right, all orders we receive for installation before Christmas day of our climbing frame, we'll send a high quality stocking filler. This free Magnifying Post worth £210 is absolutely free, a hit for all little budding scientists!
So why consider a climbing frame at this time of the year?
A climbing frame at Christmas? Really?
So why do we offer a climbing frame for Christmas. The weather is unpredictable with frost or, dare to believe, snow on the ground.
However there are some good reasons for ordering your climbing frame for Christmas. Rather than the busier periods of spring or early summer.
You don't have to wait ages due to log jams and delays whilst the installers work their way through their bulging order books.
And our installation in the garden, (especially when you're undertaking major ground works and all it entails), does give your garden time to recover.  Come spring, the work has settled and the lawn can flourish.
But the biggest advantage has to be the look on the faces of the little ones when they see their frame for the first time. Look what Father Christmas 'has brought for them, as they've been very very good!' It can be hard enough getting the kids outdoors during the winter season, but a new climbing frame: an excellent motivator!
Christmas is traditionally a time for family 'get together's' – particularly so if cousins are around. What could be more fun than all having fun on a climbing frame whilst the parents digest Christmas lunch.
X box versus Climbing Frames? There's Only One Winner
One of the strongest reasons to give a climbing frame to your loved one's (children or Grandchildren) this year has to be the long term benefits of a climbing frame: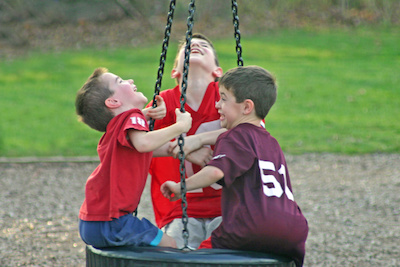 Provides great aerobic exercise

Allows children to develop good social skills and helps to develop possibly lifelong friendships

Develops great hand eye coordination

Encourages your children's imaginations to develop well

Helps to develop upper body strength and stamina

Helps prevent childhood obesity
So, lock the iPad, hide the remote, clap the laptop and give them something that will energise them.
It can be easy to let what we allow our children to do to be a projection of our own thoughts and values. If we don't like to play outdoors when it's cold and wet, then are children won't be interested either. Fortunately, nothing could be further from the truth.
Children are amazingly hardy and resilient, and think nothing about getting down and dirty whatever the weather. In our experience,  they love an opportunity to get out into the great outdoors whatever the weather.
Keeping the secret
So, once you've made a decision to order a frame in time for Christmas. The only question is, how do you keep this rather wonderful secret from your children. Some very fortunate customers have sufficiently large or hidden gardens to allow us to install secretly. However that's not necessarily the case in the vast majority of our customers.
The good news is that we will take a maximum of two days to install the largest double tower. If you really want it to be a surprise, then arrange for a sleepover or visit friends and relatives whilst the work is being done.
This may not help you when you get back, In this case, we could offer to install as close to Christmas Day as possible to minimise the amount of time you need to keep the secret.
So, why not think a little bit differently this Christmas and look outdoors for fun. Consider us installing a Gardenatics climbing frame. Ours are the biggest on the market, are made with high quality sustainable wood and grace any garden, both large and small.
If you'd like a free no obligation quote – please get in touch by completing one of our forms or just pick up the telephone and call 01962 600 626.