Wooden climbing frames offer children of all ages creative, energetic and enjoyable opportunities to keep fit, play and socialise, either as a family or with friends. However, statistics published by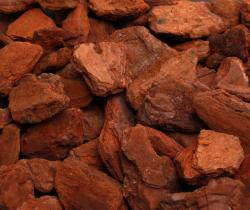 the safety charity RoSPA are a sobering reminder that youngsters can easily become victims of unexpected accidents whilst playing; every year in the UK, approximately 40,000 children are injured in playgrounds and attend hospital as a result, with as many as 80% of injuries sustained as a consequence of falling from heights.
While poor design or installation of equipment is sometimes to blame, even when the equipment and installation is sound, it's impossible to eliminate all risks when children are at play. Proactively taking active measures to prevent injuries is a worthwhile step if your kids are to continue to enjoy all the benefits of a wooden climbing frame in the comfort of your garden.
Fortunately, a number of options exist to make sure your wooden climbing frames and tree houses are safe to use, whatever your budget. Most importantly, correct installation and maintenance of the equipment is vital to ensure that the chances of dangerous faults occurring is minimised, while it is also essential to position your wooden climbing frame in a safe location; siting it on a hard surface will only greatly increase the likelihood of your child sustaining a more serious injury should they fall.
Bearing in mind that most injuries to children are sustained as a result of falling, the installation of ground safety materials, such as soft cushioning around the climbing frame or adventure tower is highly recommended. In this blog we take a look at the different options available and provide an overview of each:
Rubberised mats for wooden climbing frames
Cheap and easy to install, rubberised mats are the most cost -effective option to help to cushion the fall should your child take a tumble from your climbing frame or tower. However, rubberised mats may be considered to be unsightly and contrast with the aesthetically pleasing appearance of wooden play equipment. If cost is the deciding factor, then this solution may suit your budget, but bear in mind the mats may spoil the view from your conservatory.
Chopped bark
Perfect for the environment due to its ability to biodegrade, bark is an attractive option that helps your garden to retain its natural appearance while complementing the rustic style of your play frame. Bark is also a surprisingly soft surface that can absorb the impact of falls quite effectively. However, it does have a habit of spreading which, if used close to lawned areas, is likely to become irritating, so installing gravel boards and a black membrane will help to keep it concentrated where it is most needed at the base of your climbing frame and tower. Make sure you replenish the bark at least annually. If the older material has become very hard and compact, consider removing it and replacing with new.
Play Bark
Play bark is similar to chopped bark yet offers the extra benefit of being free from splinters, and therefore safer for children to play on. We recommend installing gravel boards or edging to keep the play bark from spreading over your garden and rake it regularly to ensure consistency. Play bark, while perfect for impact protection, is also relatively expensive, more so than chopped bark, but offers longevity and cushioning.
Rubber Playground Chippings
Constructed from recycled tyres and shaped into nugget-sized pieces, rubberised chippings helps to protect the environment by ensuring that unwanted tyres are not disposed of in landfill. It can also be bought in a range of different colours to suit your particular garden area colour theme. And, owing to its impact absorbing qualities, don't need to be laid to the same depth as chopped bark or play bark. It does share the need to use gravel boards and membrane to prevent it spreading however.
Artificial Grass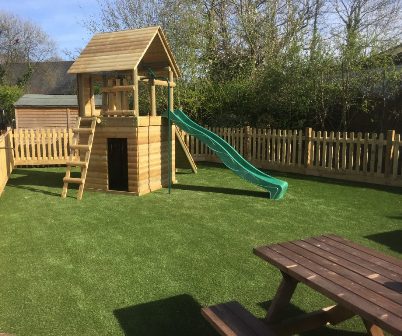 If appearance and longevity are desirable, then artificial grass is the perfect solution.
You'll need to add a cushioning sublayer to help to protect your kids should they fall during play, but the finished product is perfect for a natural appearance.
A variety of styles and shades of grass are available which you won't need to update or replace for years, but the price tag can be hefty: expect to pay between £60 and £140 per square metre.
In summary, soft cushioning is vital if your children are to enjoy safe use of their wooden climbing frames; knowing you have done your best to minimise the chance of injury offers considerable reassurance. With a variety of solutions available with styles and prices to suit your needs, you can help your family to play safely in the garden this summer.