When the sun has got its hat on, take the opportunity for outdoor play. Summer is a wonderful time to make special family memories, for both kids and grown-ups alike. And what better way to cool off and get the giggles than making your own water slide in the garden? So slap on some sun-cream and put on a hat! Drink plenty of water and don your shades! And, most importantly, read our essential guide to setting up your own slip and slide adventure!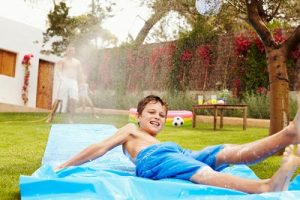 Outdoor play in the sun
When we are blessed with a summer that lasts more than three days, it feels like a long time coming. But before you know it, the complaints begin… Remember that August when you caught Mum trying to climb inside the fridge? And that year the kids were hanging out in a dark cupboard to cool off? Somehow, the solution almost always seems to lie indoors. Rest and shade are important, of course, but don't throw away entire day hiding away in the house. Playing with water outside is a great way to stay cool while still enjoying the sun and fresh air. So don't turn your back on the climbing frame; it could become the most important feature of your summer!
The homemade water slide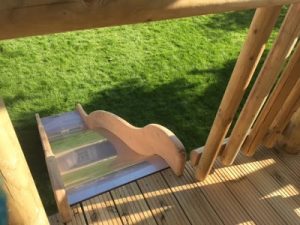 Nobody's asking you to climb in a hot car to go and buy the gear you need to make your own water park. The beauty of the water slide is that if you've got a climbing frame, you're set. You can quickly transform it by using things you already own. Hooray!
What you need
You'll need the slide on your climbing frame, and a water supply (a hose, or several kids with water guns). You'll want some towels on hand for afterwards, of course. And wear swimwear or casual clothes that you don't mind getting drenched! Finally, dig out the paddling pool from the shed.
The method
Give your lungs (or foot pump) some exercise and inflate your paddling pool. Pop it at the bottom of the slide to make a fun landing spot.
Use your hose to soak the slide. Alternatively, have several playmates spraying water guns on the slide while someone else zooms down it. If you have enough outdoor play participants to choose the water gun option, it has a range of benefits. It's Eco-friendly, as you can reuse the water, refiling the tanks from the paddling pool each time. Plus, it's super-fun for everyone to play at once, keeping each person involved even when they aren't sliding.
Family and Friends
This is a sure fire way to inject some fun into your summer and get some giggles and wriggles out. Grown ups will enjoy letting their hair down and being silly. Kids will love the chance to get messy without getting into trouble. Friends will be so excited to come and play throughout the summer, putting an end to that school-holiday boredom. It could even become an annual tradition!
Families and friends even form stronger bonds through fun outdoor play. Physical play – done safely – builds trust between all participants. And it's great for children to see a lighter side to their parents, for a change!