Where does the story begin?
Everyone associates zip wires as huge, fast, and terrifying activities across canyons and valleys, but where did they originate? There isn't any evidence suggesting a specific date when zip lines first originated. Some suggest they have been around for hundreds of years in China. They became transport for mountainous regions, such as the Himalayas and the Alps. Locals suspended ropes and vines across areas they couldn't normally reach by foot. Zip wires were an ingenious mode of transport for people, and for goods like food. Sometimes they crafted seats and containers to carry items across therefore saving time. The people used their own strength and movement to 'shimmy' across the lines – these were the origin of the bridges we know today.
How did it develop?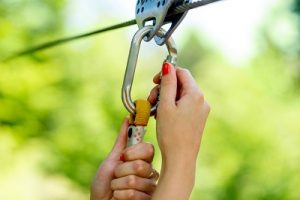 Over time angling the lines made transportation easier and faster. The natural slope of the land allowed them to slide down, thanks to the power of gravity. However only in recent years, up to 2015, have these traditional way across valleys been replaced with the bridges in China.
19th-century explorers and adventurers also used rudimentary versions of zip wires. Climbers fashioned lines out of multiple wires grouped together and experimented to see how they could improve abseiling techniques. Consequently this highlighted the need for safety equipment, such as carabiner clips, harnesses and hard hats. When the equipment improved, opportunities for exploring ever more challenging dangerous places opened up.
The first recreational courses
The next stage of development was the addition of trolleys to zip lines. These allowed the load to spread across the cable resulting in a smoother ride. This discovery led to the dawn of a new recreational activity. Using the natural gradients of the Earth and man-made structures, people could travel safely across valleys at speed, for fun. It was the start of an adrenaline fuelled activity loved by many. The first recreational zip ride was the 'Original Canopy Tour' which opened in Costa Rica in 1997.
World records
Did you know the longest flying fox in Europe is actually located right here in the UK?
The Zip World Bethesda Line in Penryn Quarry, Wales is the longest, stretching for 1600 metres. It also holds the record for being the fastest in the world. So if you really want to test your limits, you know where to go.
The world's longest zip ride is 2545 metres and is located across the pond in Copper Canyon, Mexico. Zip rides are still evolving; Korea and Australia have developed new zip wires that have twists and turns. Will we ever see these roller coasters of the zip wire world arrive in the UK?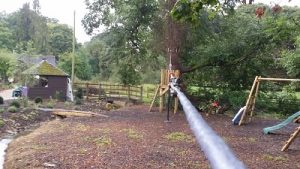 Bringing zip wires to your garden
At Gardenatics, we believe that zip wires can be a great addition to the family garden. Using trees or bespoke built towers, we can manipulate the natural gradient of the wire to create a safely exhilarating ride. It's a sure fire way of adding adrenaline fuelled elements to challenge and excite your children.
Do you want to find out more about zip wires in gardens? Why not read our other blog the 'Gardenatics Zip Wire Guide'? It has lots of information and addresses the key points on whether a zip wire would work for you.