Outside sleepovers
Children love different outdoor play activities and sleeping outside under the stars for the first time with their friends is undeniably magical. Playing and sleeping in the same place is such fun! Spending the whole day outside in the fresh air is the best part of being a kid. Outside sleepovers allow your child to watch the sun go down – and rise! – with their friends. Above all, a slumber party on a climbing frame or wooden tree house is fun, pure and simple!
Outdoor Play Activities
Here are some fun things to do at an outside sleepover:
Put on a play or skit – a climbing frame makes the perfect stage for children of all ages.
Sing songs
Play games such as 'Truth or Dare' or the 'Yes and No' game. Players in this game have to try and answer questions without using the words 'yes' or 'no'.
Water fights -make sure you have plenty of towels and spare clothes handy!
Build a camp fire with adult supervision and then roast marshmallows on kebab skewers. Why not make 'smores' by squashing the melted marshmallows between two chocolate digestive biscuits?
Scary ghost stories for older children.
Flash Light hide and seek in the dark. After all, playing a game in the dark definitely adds to the fun. Wear dark clothes and face paints if it's a midsummer event and doesn't get dark until really late.
Family Bonding
Outdoor sleepovers are good for family relationships on so many levels. Your child will be glad that you have confidence in their ability to cope. They will probably gain prestige amongst their friends for being the host of such a fun event. You are helping your child to develop independence in the best and most natural way. Trust between child and parent will increase after a successful sleepover.
In short, they are a great way to develop confidence in your child. Teachers often report that at school residential trips, it is very obvious which children have been on sleepovers. Children that are used to spending the occasional night away from home take it all in their stride.
Fun and Friendship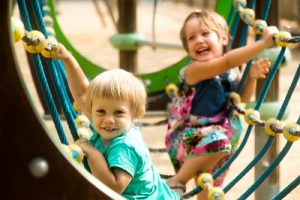 Of course, kids make friends at school without going to sleepovers. However, there is no doubt that spending the night together helps to build stronger friendships.
(Note: The sleepover is more likely to go well if the children invited are confident at your house. Not least because you can check that they get on well together.)
The whole aspect of sharing different experiences whilst engaging in healthy outdoor play activities helps close friendships to develop.
Let positive memories become strong ones. Your child will look back and fondly remember the time they slept outside in the wooden climbing tower. And strong friendships made in childhood can often last a lifetime.