Get Ready for Summer Fun!
Give your children a reason to stay home exercise and play!
Children love a Gardenatics garden. Our climbing frames, tree houses, zip wires and lifestyle builds bring life and fun into any outdoor space. We tempt kids to explore the real world, engage in creative play and exercise.
We design the perfect wooden play systems which blend with your surroundings, giving hours of outdoor fun adding value to your home.
SHARE YOUR DREAMS WITH OUR TEAM
Let us know what you're looking for or give us the opportunity to inspire.
Frames and Towers
We create bespoke climbing frames and towers to suit your family's individual needs and wants in the space you have available. No space is too small!
Tree Houses
What we always wanted as a child! Our team can help you create the perfect treehouse for your family.
Click here for more tree house ideas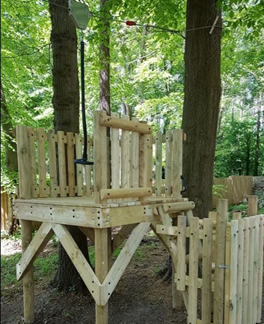 Zip Wires
Fun for children and adults alike, who could ever tire of one! At Gardenatics we can install Zip wires as a one off pieces or part of an overall pay area.
For more zip wire fun see here
Make Sure You Go Large
One of the things that doesn't really come across in our photos is the scale of our builds. Our builds are used by kids of all ages, as they are large enough for teenagers, whereas some on the market are too small once the kids get to about 5ft high. It happens sooner than you think!
If you want to explore what Gardenatics could do, just ask. Call 01962 600 626 or send an email. We're on hand to help you make your family time super special.